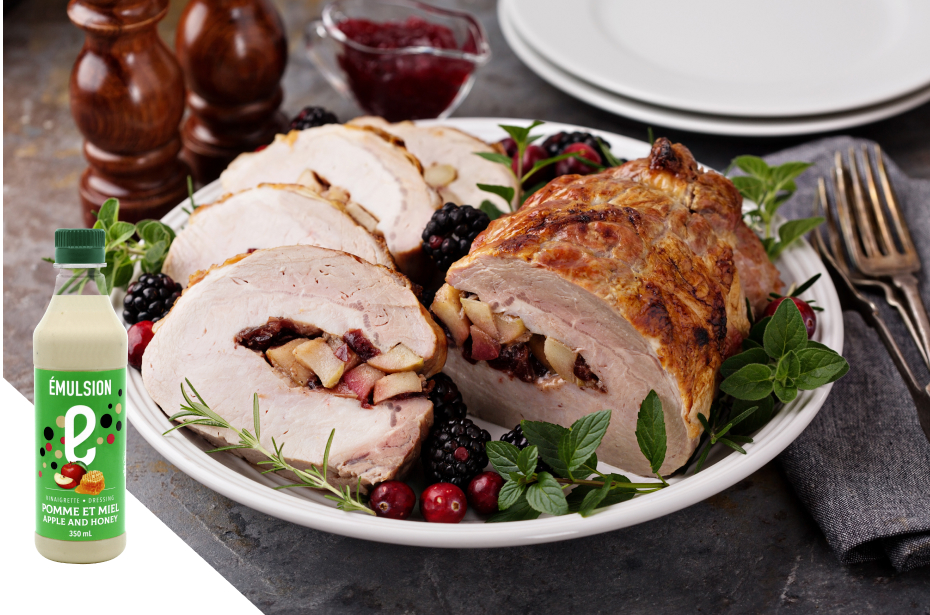 Type of dish : Apple honey
Ingredients
1 pork tenderloin
1 Cortland apple, diced
1 red onion, chopped
145 g Brie cheese, sliced
125 ml (1/2 cup) Émulsion Apple Honey dressing
30 ml (2 tbsp.) butter
Salt and pepper
Preperation
Preheat the oven to 175⁰C (350⁰F).
On a work surface, butterfly* the pork tenderloin.
Brush pork tenderloin with 60 ml (1/4 cup) dressing. Set aside.
In a skillet, melt 15 ml (1 tbsp.) of butter over medium heat and brown onions. Add the apple cubes and sauté for a few minutes.
Let the onion and apple mixture cool.
Add the remaining dressing and mix well.
Stuff the pork tenderloin with this mixture and add Brie cheese slices.
Close the pork tenderloin and tie with string.
Melt the remaining butter in an ovenproof pan and brown the pork tenderloin. Place in the oven for 20 minutes.
After removing from the oven, let it rest for a few minutes before slicing.
* To butterfly: cut the pork tenderloin lengthwise, taking care to not slice right through. The tenderloin should open like a book. Open and flatten each side.